wohnvoll AG publishes its first research white paper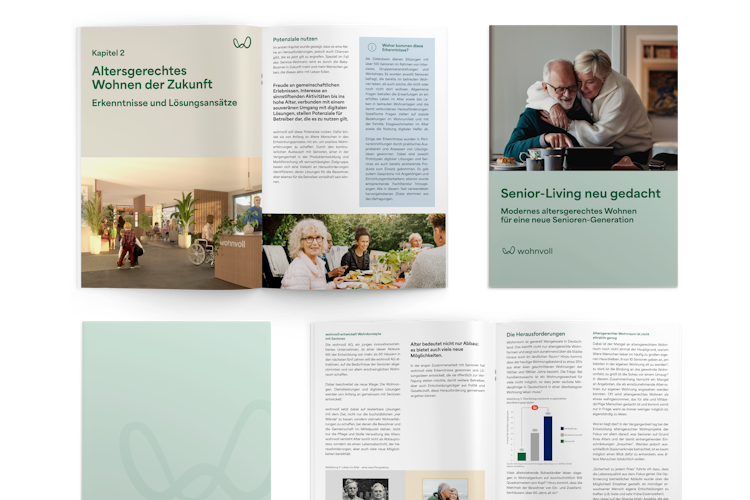 "Rethinking senior living- Modern age-appropriate living for a new senior generation"
wohnvoll has summarized the key findings of its user research in a white paper. In more than 100 sessions with seniors, their relatives and experts from senior facilities, wohnvoll has gathered comprehensive insights into the lives, expectations and challenges of people over 65. By publishing these insights, wohnvoll aims to contribute to finding new solutions for age-friendly living in the future and to raise awareness for a needs-based development approach to age-friendly living.
Viewed against the backdrop of a rapidly aging society and the necessity to rethink senior living, the white paper begins with an introduction to the overall societal challenges posed by an aging society: poorly distributed housing due to the lack of attractive alternatives to home ownership, the rising shortage of caregivers, and an ever-increasing demand for modern age-appropriate housing for the baby boomer generation, which is currently entering retirement age.
The findings will then be presented together with the corresponding ideas for solutions to these issues. Here, central themes are self-determined living, community and self-fulfillment, but also digitization and access to age-appropriate forms of housing.
Thanks to these insights and, in part, already implemented solution ideas, wohnvoll will be able to offer both attractive and affordable living spaces for seniors in the near future. Thus, wohnvoll is already positioning itself as a pioneer for modern senior living. The white paper illustrates how this is achieved.