wohnvoll involves future users to test apartment layouts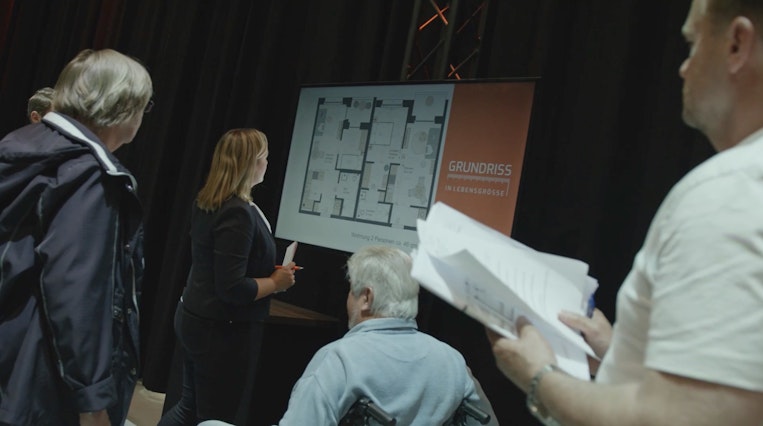 How do you get feedback on the architecture of an apartment that has not yet been built? To do so, wohnvoll AG teamed up with "Grundrisse in Lebensgröße" in their industrial loft in Berlin Lichtenberg to test three draft apartment floor plans with users, by constructing a life-size model using lightweight walls and furniture.
Wohnvoll has taken this agile and user centric product development approach, that is more typically known from software development, and has applied it to the architectural- and interior design process of its buildings. "It is unusual for a real estate developer or even an operator to solicit feedback on its architecture from users even before launching a first location," notes Paolo Nattenmüller, Chief Product Officer of wohnvoll AG.
Once the models were set up, wohnvoll's architects were eager to explore their own creations and get a sense for the feeling of each apartment and already started fine-tuning some of their work. Shortly after, they were joined by a group of 65+ year olds to explore the life-size models. "We walked through several draft floor plans with the seniors and were able to establish clear preferences, such as for a floor plan with a bedroom and en suite bathroom," reports Georg Eichhorn, Experience Research Lead at wohnvoll AG.
The seniors moved through the rooms by foot, using a walker and also in a wheelchair to check, for example, whether everyday routines were supported in the best possible way, as well as what they liked, and what they were still missing. "The findings were very important for us; we now know, for example, that storage space is in even greater demand than previously anticipated, and as a result we are adding more built-in furniture," explains Stephanie Bredau, Head of Development at wohnvoll Development Service GmbH. Similarly, the work surfaces in the kitchen, for example, should be extendable as needed, as residents often have family and friends over to cook together.
The first wohnvoll village is scheduled to open in the first quarter of 2024, but as the apartments will have been extensively tested and iterated upon by then, they are set to already be optimally tailored to the needs of future residents.