Interview with Paolo Nattenmüller, CPO wohnvoll AG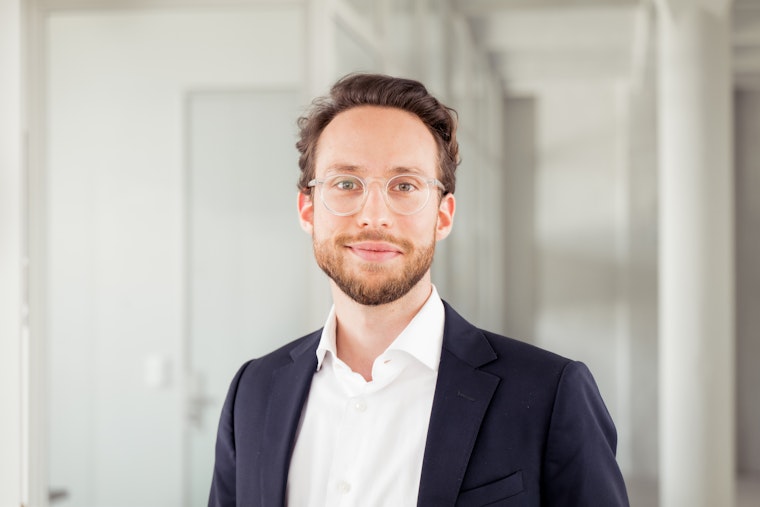 Paolo, you are Chief Product Officer at wohnvoll AG, what are your main tasks?
I am responsible for the digital products, but also for making sure that we have a consistent product overall. If you look at existing real estate projects, you often see that the ideas of the developer and operator were very different. The architecture doesn't match what the operator needs, and there may end up being rooms that are not usable at all.I am responsible for the digital products, but also for making sure that we have a consistent product overall. and that we bring user centric design to everything we do.
You've brought more than ten years of experience in product development and the development of digital business models to the table. What specifically did you do before that?
I spent six years in the U.S., studied there and worked in Silicon Valley at various start-ups. I built up my own start-up in the digital sector and sold it. Back in Berlin, I developed a wide variety of new products for BCG Digital Ventures and built the corresponding startups, from the world's largest database for material data to a way for laboratory scientists to document their experiments using a headset, thereby improving the reproducibility of experiments.
How did you go from working on such products to wohnvoll AG?
At BCG, I met Anthony Herzogenberg and we worked together on the topic of an aging society, which we believe far too few people are addressing. This is despite the fact that the lack of barrier-free housing and the need for new living concepts for the aging baby boomer generation are major societal challenges. For example, the baby boomers don't want lunch at 12 o'clock on the dot every day and attach great importance to healthy eating. We have gradually developed a modern, tech-enabled senior co-living concept that is radically different from the dusty assisted living facilities of old. We want to eradicate people's fears of being lonely and needing care in old age. Our emphasis of modern technologies and the efficiencies they create, also make it possible for us to offer what was previously very expensive serviced living to people with lower to middle pensions.
Part of the wohnvoll concept is that residents can interact with each other and their relatives via an app. Why is digitization so important to you in the context of senior living?
In extensive user research, we found out that people who live in senior living facilities today often don't even know what's happening in the house. They often can't give any feedback at all if they would perhaps prefer to attend a yoga class rather than another bingo evening. In the wohnvoll villages, residents have a public calendar in their app where all the offerings are listed, they can sign up and give feedback with a flick of the wrist. There's also an overview of what's for dinner at the restaurant that day; they can even pre-order the menu. New residents can also introduce themselves there via app, so they can be approached right away and welcomed into the community more effectively.
But it's not about residents communicating only via app, is it?
No, quite the contrary. We want to promote personal interaction between the residents through the app and create a lively house community. This means that as a resident, I can organize a Christmas dinner and it won't just be posted on the physical bulletin where no interaction is possible, but instead I'll invite the participants via the app and know right away whether they want to come. Or I can set up a quick poll to find a time to take a cab into town together, or find other participants for a yoga class I might be trying to organize. The platform can be used for all of that. Our user research also showed that older people like to cook, but not by themselves every day. The app makes it easy to get together to cook and share meals.
What else can the app do?
We want to offer many services in our wohnvoll villages that can also be booked via the app in just a few clicks. These might include a janitor service, a laundry service or help with technical questions about the cell phone or TV. We are also planning a shopping feature. From our surveys, we have gained an important insight that people like to shop to get out and about. But carrying heavy items like cases of water, other drinks, or flour is an issue. We can offer these via a store in the app and deliver them directly.
You also want to include the Japanese idea of "Ikigai," which could be translated as life's purpose, in your concept. What is behind this?
It is the realization that every human being needs a purpose – an obligation or calling that makes you want to get up in the morning. For our residents, this can be a vegetable garden that they tend, or supporting other residents who can no longer do everything on their own.
Our app can help coordinate such tasks, facilitate matches between people, and even encourage residents by publicly recognizing their commitment. A key inspiration here is the German concept of "Nachbarschaftshilfe" (neighborhood support). A resident who was a teacher for many years might like to tutor a neighbor's child. Or a young professional living nearby might be looking for someone to walk his dog from time to time. In other words, we want to use the digital possibilities to open up to the outside world. The wohnvoll village should not be closed off from the larger community. The neighbors should have some insight into the activities of the village, so that a lively community can develop.
So your target audience is clearly the baby boomer generation, isn't it?
Yes, a lot of this probably wouldn't have been a good idea five years ago – the market wasn't ready. But the baby boomer generation is very familiar with smartphones and apps as they still worked with such technologies in their everyday working lives. They own a Apple Watches, use pedometers, or even ask Alexa or Siri to cook eggs. This generation is now entering retirement, so the share of such technically highly capable seniors is continuously increasing. So with our concept, we are focusing on the residents of tomorrow.